10 Ways to say I Love you In English & Hindi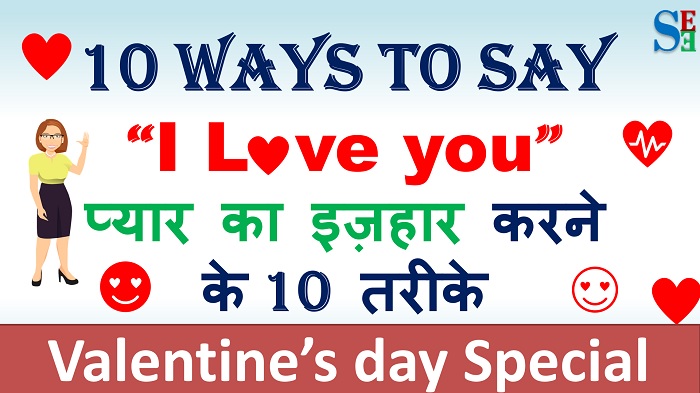 Hello friends, let's learn different and creative ways to say I Love you in English and Hindi.It is helpful for love for him quotes,tell someone you love them, love for hew quotes and many more… Here we have some new different ways to upgrade our style of showing our feeling with best way to say I Love You.
In this artical , you are going to learn around best Ways to say I Love you In Hindi and English which are helpful in day to day life to speak in English easily.
Bur Before learning , We should understant What is LOVE?
Love is a complex emotion and concept that can take on many different meanings depending on the context and the individual. At its core, love is often described as a deep feeling of affection or attachment towards someone or something. It can manifest in many different forms, including romantic love, familial love, platonic love, self-love, and even love for non-human entities like nature or animals.
Love often involves a deep sense of caring, empathy, and connection with another person or thing. It can inspire positive feelings such as happiness, joy, and contentment, but it can also bring about negative emotions such as pain, heartache, and grief.
Love is a fundamental human experience, and it plays a critical role in many aspects of our lives, including our relationships, our sense of self-worth, and our overall well-being. However, because love is such a complex and personal experience, it can be difficult to define or describe in precise terms.
How to express your love or Ways to express your love
Expressing love in English can be done in many different ways, depending on the relationship and the context. Here are some common ways to express love in English:
1. Say "I love you" – This is the most straightforward and direct way to express your love to someone. It can be said to a romantic partner, family member, friend, or even a pet.
2. Use terms of endearment – Terms of endearment are words or phrases used to express affection, such as "sweetheart," "honey," "baby," "dear," or "darling." These are often used in romantic relationships, but can also be used between friends or family members.
3. Show physical affection – Physical touch is a powerful way to express love. Examples include hugs, kisses, holding hands, or cuddling.
4. Write a love letter or note – Writing a heartfelt letter or note can be a meaningful way to express your feelings. This can be done for a romantic partner, family member, or friend.
5. Do something thoughtful – Small acts of kindness can be a powerful way to express love. Examples include cooking a favorite meal, buying a thoughtful gift, or doing something special for someone.
Remember, expressing love is a personal and individual experience, and what works for one person may not work for another. The most important thing is to be sincere and genuine in your expression of love.
10 Ways to say I Love you In English and Hindi
1) में बार बार आपके प्यार में पड़ती रहती हु।
I keep falling in love with you.
2) मैं तुम्हारे बारे में सोचना बंद नहीं कर पा रही हूँ ।
I cannot stop thinking about you.
3) में आपके प्यार में डूब गयी हूँ।
I am head over heels in love with you!
4) मेरा प्यार बेशर्त और हमेशा के लिए हे।
My love for you is unconditional and eternal.
5) आप मेरी ज़िंदगी की एकमात्र सच्चे प्यार हो
You are the love of my life.
6) में आपके प्यार में पागल हूँ।
I am crazy about you.
7) में अपनी सारी ज़िंदगी आपके साथ बिताना चाहती हूँ ।
I want to spend my whole life with you!
8) में आपसे बहुत आकर्षित हूँ।
I am smitten by you.
9) मैं वास्तव में आपको पसंद करती हूं और आप मेरे साथ अब तक हुई सबसे अच्छी चीज हैं।
I really like you and you are the best thing that has ever happened to me.
Also helpful for Lobe for him quotes
10) मैं तुम्हें बहुत पसंद करती हूँ। में तुमसे प्यार करती हूँ।
I adore you.
Innovative and best ways to say I love you to your loved one
1. Create a personalized playlist of songs that remind you of them and share it with them. It could include songs that you've listened to together or that hold special meaning for the two of you.
2. Leave little notes of love around the house or in their car, such as on the bathroom mirror or tucked into their jacket pocket.
3. Plan a surprise date or outing that they've always wanted to do but haven't had the chance to yet.
4. Make a scrapbook or photo album of your favorite memories together.
5. Surprise them with their favorite food or drink, or cook them a special meal.
6. Take them on a spontaneous road trip or weekend getaway.
7. Give them a heartfelt compliment, such as telling them what you appreciate most about them.
8. Make a video montage of your time together and share it with them.
9. Write them a poem or a love letter expressing your feelings for them.
10. Send them a care package filled with small gifts or items that they love, such as their favorite snacks or a book by their favorite author.
Remember, the key is to be creative and thoughtful in your expression of love, and to show your loved one that they are valued and appreciated.
12 basic ways to say I love you
1. I love you
2. I adore you
3. You mean everything to me.
4. I'm so grateful for you.
5. My love for you is infinite.
6. You make my heart skip a beat.
7. I can't imagine my life without you.
8. You complete me.
9. I cherish every moment with you.
10. I'm lucky to have you in my life.
11. You are the sunshine in my life.
12. I will always love you.
If you want to learn about Ways to say I Love you In English & Hindi through a Video tutorial then please watch the given video. And you can also visit our youtube channel Shiv English Education for more vocabulary videos.
Other English Topics :
You can check out other page as well by clicking on below topic to explore your knowledge.
Hopefully, you have enjoyed this
Ways to say I Love you In English & Hindi
in this article. If you want to give some more quiz like ( class 2 English grammer quiz, class 3 English grammer quiz, class 1 antonym quiz, class 1 synonyms quiz, class 2 antonyms quiz, class 3 synonyms quiz, class 3 antonyms quiz or if you want to leanr some basic and important daily use English sentence with Hindi meaning then you can visit this
Shiv English Education
Website.
If you want to learn more quizzez on different subjects like (Science quiz, Math quiz,English Quiz,Computer quiz,animal gk quiz, solar system quiz, inventor invention quiz,top 10, sports quiz, etc) and You will also learn classwise quizzez with different subject. And also enjoy online math addition,subtraction,multiplication,division practice with multiplication times table. So If you want to enjoy all this quizzes and online practice then visit our other website named Shiv Kids Education.